President Ronald Reagan and "Reaganomics"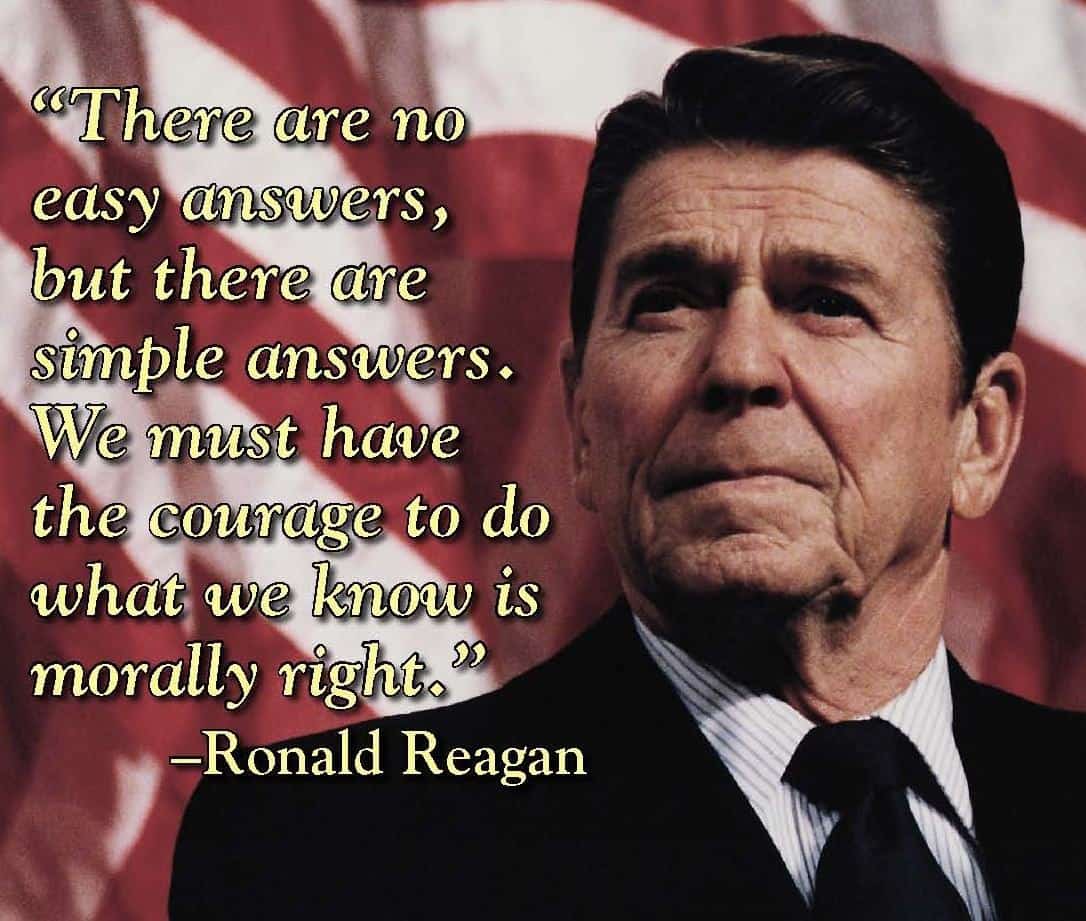 The president of the United States is considered one of the most powerful men in the world. Becoming president is a grueling and long process, and it takes a gifted individual to win a presidential election. There are many reasons why a president is elected by the people to be the leader of the United States, but no matter the reason, the main goal of every president is to improve the government, the economy, and the country as a whole. Some presidents have done little to change, and others have made drastic and controversial changes. One president that is considered to make the most drastic changes in the government and the economy, which are still debated to this day, was President Ronald Reagan.
Elected in 1980, Reagan was the 40th president of the United States, and is well-known for his radio broadcasting, Hollywood film career, charismatic leadership, sense of humor, and his legacy as a president. Even with all of his achievements and successes, Reagan's presidency is highlighted by his plan to stimulate the economy and create growth, which we know today as Reaganomics.
Reagan's Early Life and Hollywood Career
Reagan was born on February 6th, 1911 in Tampico, IL. He was a gifted athlete and played football in high school and played in college for Eureka University. After graduating from college, he began working on the radio in Iowa, where he was an announcer for football and baseball. While he traveled to Los Angeles on a spring training trip with the Chicago Cubs, he contacted a former colleague who was able to organize a meeting with a Hollywood agent. In 1937, he signed a seven-year deal with Warner Brothers studios. He was also a Captain in the United States Army Air Forces where he served from 1937 to 1945. 
Reagan landed his first movie role in 1937 as a radio reporter in the movie Love is on the Air. Even though he was a natural performer, it was not until a few years later that Reagan starred in the movie that made his career. He was chosen to play George Gipp in the movie Knute Rockne – All American. After starring in that movie, Reagan was all over Hollywood. His sense of humor, handsomeness, and love of showbusiness was adored by all. His acting career includes more than 50 films such as Bedtime for Bonzo, Kings Row (Which Reagan considered his best film and even titled his autobiography "Where's the Rest of Me?" after the movie's main quote), the host of the 1950's television program General Electric Theater, involvement in the Screen Actors Guild, and guest appearances on other shows, such as "What's My Line?" as seen in the link below. Great example of Ronald Reagan's sense of humor.
Ronald Reagan Guest Appearance on "What's my Line" TV Show
From Actor to Politician
Reagan's grand entrance into the world of politics came in 1965 when he gave a speech at a fundraiser for Barry Goldwater, the current Republican presidential candidate at the time. About a year later, Reagan became governor of California. He served as governor until 1974, and then began his run at the presidency. His history in Hollywood was seen as a weakness at the beginning of his political career, but Reagan proved that this was actually one of his greatest assets. He used quotes like "Win one for the Gipper!" from his movie Knute Rockne during his campaigns to tie his acting career to his political career. After a few years of campaigning, he a won the election in 1980 and became the 40th President of the United States. Reagan was the oldest President to take office at the age of 69 years old, and is still the oldest president to serve in office to this day. He won re-election in 1984 and served as president until 1988. He remained in the public eye until 1994 when he announced that he had Alzheimer's Disease, and passed away at the age of 93 on June 5th, 2004. 
Reaganomics
Still considered to be one of the most severe attempts to alter the course of U.S. economic policy of any presidential administration to this day, "Reaganomics" defines the economic policies of Ronald Reagan during his presidency. The goal of Reaganomics was to increase investment and saving, stimulate economic growth, successfully balance the national budget, reduce interest rates and inflation, and restore healthy financial markets. Once Reagan claimed presidency and moved to the White House, he did not waste any time initiating his plan to turn the economy around.
Reagan's vision to change the economy included many goals and policies that occurred over the course of the Reagan administration. The first and possibly most important step toward fixing the economic problems facing America was Reagan's 1981 Program for Economic Recovery, which consisted of four major policy objectives:
1) Decrease the growth of government spending – The annual increase in real federal spending decreased from four percent during President Carter's presidency to two and a half percent during the Reagan Administration. Unfortunately, the increase in defense spending was greater than Reagan originally proposed during the 1980 campaign. Reagan did not achieve a significant decrease in federal spending because economic growth was slower than expected. This struggle was most likely the greatest disappointment of Reagan's presidency.
2) Reduce the marginal tax rates on income from not only labor but also capital – The changes Reagan made in tax rates is one of the most noticeable changes. Reaganomics achieved sharp reductions in marginal tax rates and in inflation, and were accomplished at a cheaper cost than what was predicted. From 1980 to 1988, the corporate income tax rate dropped from 48 percent to 34 percent, and the top marginal tax rate in individual income decreased 70 percent to 28 percent. 
3) Cut back on government regulation – Decrease in regulation by the government was ranked last in priority compared to the other goals of Reagan's economic policy, but was successful. Although it was at a slower rate, the decrease in economic regulation that began during the Carter Administration continued. Reagan also eliminated or lessened price controls on cable TV, ocean shipping, interstate bus service, long-distance telephone service, and oil and natural gas.
4) Reduce inflation by controlling the growth of the money supply – Inflation proved to be one of the most difficult issues to overcome. At the time, Stagflation had been an ongoing in the U.S. economy, but escalated in 1973 and continued until 1980. The Reagan economic program corrected this problem and began a period of lower inflation and higher growth. Over the course of Reagan's presidency, the inflation rate decreased from 10.4 percent in 1980 to 4.2 percent in 1988.
It may not have been to the degree that was intended, but Reaganomics delivered on all of their objectives. It was clear that there was a significant improvement in the economy that was led by the Reagan economic program. Just not as much as Reagan had wanted. There were a few areas of the initial goals of his first program that were unsuccessful due to resistance from Congress and the American voters. As a whole, Reagan achieved his goal of improving the economy for the most part, something that had not been accomplished by a U.S. president in a long time.
There is a great deal that can be learned from Ronald Reagan, his presidency, and Reaganomics. In today's world, we still experience difficulties in the economy; the rising National Deficit, rises and falls in the economy, the Obama-care situation, and more. Perhaps the most important lesson to learn from Reagan's past is not in the issues he prevailed against or the problems he faced, but how he reacted and what drove him to attempt the impossible. For someone to charge straight in and attempt to completely change the entire economy is a feat in itself. But to be able to with a smile and endless optimism is something else. As americans, we have slightly lacked in the pro-action department, and are putting our faith in the idea that the economy and the government will fix themselves. This placement of faith needs to be moved, and relocated back into ourselves, and trust that we have the ability to make a difference. After all, if an actor has enough faith in himself to become president and succeeds, what's stopping us from achieving our own goals?
Sources:
Niskanen, William A. "Reaganomics". The Concise Encyclopedia of Economics. Library of Economics and Liberty. Nov 5 2013.  http://www.econlib.org/library/Enc1/Reaganomics.html
"Ronald Reagan Born". This Day in History. The History Channel. Nov 10 2013.  http://www.history.com/this-day-in-history/ronald-reagan-born
Suarez, Ray. "Reagan's Economic Legacy". PBS News Hour. June 4 2004. Nov 3 2013. http://www.pbs.org/newshour/bb/business/jan-june04/reagan_06-10.html
Pictures
http://desertpeace.files.wordpress.com/2013/04/reagan-bonzo.jpeg
http://www.airfieldsystems.com/wp-content/uploads/2013/07/Former-President-Ronald-Reagan.jpg
http://fc01.deviantart.net/fs71/f/2012/183/0/6/ronald_reagan_riding_a_velociraptor_by_sharpwriter-d55rsh7.jpg
http://1.bp.blogspot.com/-H8er77IBK4Y/TonNh49irHI/AAAAAAAAFlY/DXt99Si64hE/s1600/reagan22new.jpg
http://www.notable-quotes.com/r/ronald_reagan_quote.jpg
Download this page in PDF format